December 2019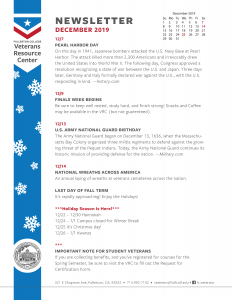 VRC_NewsletterDecember2019 Printable Version
IMPORTANT NOTE FOR STUDENT VETERANS
If you are collecting benefits, and you've registered for courses for the Spring Semester, be sure to visit the VRC to fill out the Request for Certification Form.
12/7 Pearl Harbor Day
On this day in 1941, Japanese bombers attacked the U.S. Navy Base at Pearl Harbor. The attack killed more than 2,300 Americans and irrevocably drew the United States into World War II. The following day, Congress approved a resolution recognizing a state of war between the U.S. and Japan. Three days later, Germany and Italy formally declared war against the U.S., with the U.S. responding in kind. —history.com
12/9 Finals Week Begins
Be sure to keep well rested, study hard, and finish strong! Snacks and Coffee may be available in the VRC (but not guaranteed).
12/13 U.S. Army National Guard Birthday
The Army National Guard began on December 13, 1636, when the Massachusetts Bay Colony organized three militia regiments to defend against the growing threat of the Pequot Indians. Today, the Army National Guard continues its historic mission of providing defense for the nation. —Military.com
12/14 National Wreaths Across America Day
An annual laying of wreaths at veterans cemeteries across the nation.
The Holiday Season is Here!
12/22 – 12/30 Hannukah
12/24 – 1/1 Campus closed for Winter Break
12/25 It's Christmas day!
12/26 – 1/1 Kwanza