OCTOBER 2019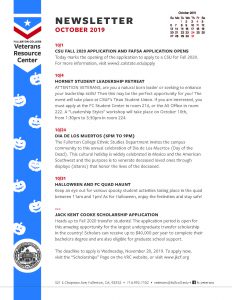 VRC_NewsletterOctober2019 Printable Version
[10/1] CSU FALL 2020 APPLICATION AND FAFSA APPLICATION OPENS
Today marks the opening of the application to apply to a CSU for Fall 2020.
For more information, visit www2.calstate.edu/apply
[10/4] and [10/10] HORNET STUDENT LEADERSHIP RETREAT
ATTENTION VETERANS, are you a natural born leader or seeking to enhance your leadership skills? Then this may be the perfect opportunity for you! The event will take place at CSUF's Titan Student Union. If you are interested, you must apply at the FC Student Center in room 214, or the AS Office in room 222. A "Leadership Styles" workshop will take place on October 10th, from 1:30pm to 3:30pm in room 224.
[10/24] DIA DE LOS MUERTOS (6PM TO 9PM)
The Fullerton College Ethnic Studies Department invites the campus community to this annual celebration of Dia de Los Muertos (Day of the Dead). This cultural holiday is widely celebrated in Mexico and the American Southwest and the purpose is to venerate deceased loved ones through displays (altares) that honor the lives of the deceased.
[10/31] HALLOWEEN AND FC QUAD HAUNT
Keep an eye out for various spooky student activities taking place in the quad between 11am and 1pm! As for Halloween, enjoy the festivities and stay safe!
[—] JACK KENT COOKE SCHOLARSHIP APPLICATION
Heads up to Fall 2020 transfer students! The application period is open for this amazing opportunity for the largest undergraduate transfer scholarship in the country! Scholars can receive up to $40,000 per year to complete their bachelors degree and are also eligible for graduate school support. The deadline to apply is Wednesday, November 20, 2019. To apply now, visit the "Scholarships" Page on the VRC website, or visit www.jkcf.org